RESIDENTIAL HEATING & AIR CONDITIONING
Heating and air conditioning you can count on. We offer quality, affordable service to our residential customers. Whether you need a furnace repair, a new furnace installation, new ductwork or just an HVAC system check, we are there for you. Our service technicians are professionally trained, friendly and experienced. We schedule service times that are convenient for your schedule.
We service all types of HVAC systems. If you would like to upgrade your system to have better indoor comfort and save costs, contact us today.
FURNACE AND AIR CONDITIONERS
AFFINITYTM SERIES AIR CONDITIONERS.
Predator® condensing units fit almost any outdoor location, especially rooftops because they weigh much less than similar single package units.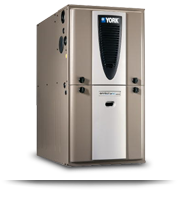 AFFINITYTM SERIES FURNACES.
Engineered for comfort with features such as ClimaTrackTM variable -speed air-handling technology, smaller cabinets for ease of installation, modulating design to maintain desired temperature settings as well as 10 year limited parts warranty (call for details).
LX SERIES AIR CONDITIONERS.
For an energy efficient central air conditioning system that ensures advanced comfort, a smart selection is York® LX Series of split system air conditioning units featuring ENERGY STAR® models that reduce your utility bills, MicroChannel Coil technology, allowing a small outdoor footprint and 10-year parts and 10-year compressor limited warranties.
RESIDENTIAL HVAC SERVICES
Free Estimates
Licensed, Bonded, Insured
Ground Source Heat Pumps Installed and Repaired
Furnace/Air Conditioning Repair or Replacements
Furnace Cleaning
Flue Safety Testing
Carbon Monoxide Safety Testing
Tune-ups To Save Money
Programmable Thermostats
Preventative Maintenance Agreement
Radiant Floor Heating
Custom Home HVAC Design
LX SERIES FURNACES.
For high efficiency furnaces that pack a lot of performance in less space, count on York® LX Series gas furnaces featuring high efficiency models to cut utility costs, modulating burner or variable speed blower to provide a closer degree of comfort and a compact 33-inch cabinet.
RESIDENTIAL HUMIDIFIERS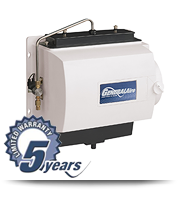 GENERALAIRE LEGACY SERIES HUMIDIFIER
GeneralAire® Whole House Legacy Humidifiers incorporate fan-powered, drum and flow through technologies to provide humidification to your home. Water-soaked Vapor Pads® provide important moisture to your home. Four models. All include our new MHX3 Manual Control Humidistat. Accommodates homes from 2,800 to 3,000 Sq. Ft.
OUR SERVICE AREAS
© DONALDSON HEATING & AIR CONDITIONING
OUR PARTNERS
HOW TO FIND US
934 S.E. 7th Terr.
Lee's Summit, MO 64063
(816) 246-9500